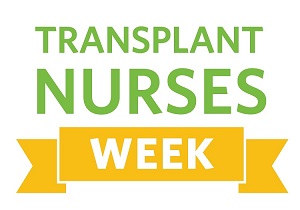 Transplant Nurses Week:

 April 22 - April 29, 2024
#transplantnursesweek
ITNS created Transplant Nurses Week (TNW) to raise awareness of the unique contributions transplant nurses make in the lives of the people with whom they work, especially their patients. 
As awareness of this important profession grows, ITNS is committed to creating more opportunities for nurses, healthcare professionals, organ donors and recipients, and their families to show their appreciation for the incredible care transplant nurses provide around the world. 
Transplant Nurses, share why you are proud to be a transplant nurse, or acknowledge one of your colleagues!
Patients and Families, share your story of an amazing transplant nurse!
Watch your inbox for ways to celebrate in 2024!